Last updated 11/12/2019
Berkeley Regional Services (BRS) is observing the annual closure of campus to conserve energy which will occur this year between Monday, December 23, 2019 and Wednesday, January 1, 2020.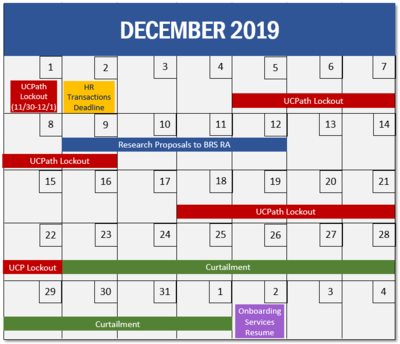 Here are more specific details:
Human Resources/ Academic Personnel Support (HR/APS)
To ensure requests are processed by calendar year end, campus clients will experience earlier-than-usual deadlines for HR-based transactions. This is due to multiple UCPath December lockout periods (11/30-12/1, 12/5-9 & 12/18-22) coupled with the curtailment/winter break period. Campus should be receiving an email in early December from the CalTime team regarding those related deadlines. 
 HR-based transactions deadline date: 12/2/2019
 These requests could include: 
Pay-related (excluding timesheets) transactions *

Appointments ending on 12/31/19 that need to be extended (this will ensure no lapse in access when the employee returns in January 2020)

Any promotions or separations (prior to 12/31/19)

All STAR Awards for December
* Note: see the BRS Client Payroll Calendar for usual December timesheet deadlines.  Also refer to the CalTime Timecard Approval Deadline calendars for non-exempt and exempt employees. Complete CalTime deadlines can be found on the CalTime website.  
Onboarding for new Berkeley employees
Onboarding activities  will be suspended during curtailment and the next regularly scheduled New Employee Onboarding Session will be offered on Thursday, January 2, 2020 at Onboarding's new location in room 1B at University Hall. Here are some related deadline reminders:
Last date to complete New Employee Onboarding in order to receive timely pay:

Onboard by 12/5/19 to receive pay on 1/2/20
Onboard by 1/6/20 to receive pay on 2/1/20 (For ASE/GSR and Lecturer hires for Spring '20 appointments need to complete Onboarding no later than the first day of the semester (1/14/20) in order to avoid potential damage payments or potential teaching day basis calculations.)
Onboard by 2/20/20 to receive pay on 3/1/20 
Purchasing & Reimbursements (P&R)
As they are received, BRS regional P&R teams will strive to complete transactions as quickly as possible, given the current staffing levels. For an estimate on the timeframes of requests the teams are currently working on, contact your respective regional P&R team.  
Reminder: The Direct Enter process introduced by the Controller's Office must be used for all non-complex travel reimbursement requests. The turnaround time is faster and in some cases, takes as little as five (5) business days for payments to be processed and it also provides improved visibility to the status of the request. 
Research Administration (RA)
SPO will process proposals due in December 2019 and January 2020 according to the VCR's four-day proposal submission policy with the following exceptions:
| | | | |
| --- | --- | --- | --- |
| Proposal Due Dates (by 5PM) | Due to BRS RAs (by 8AM) | Draft due to SPO (by 8AM) | Final Proposal due to SPO (by 8AM)  |
| Fri. 12/20/2019 – Fri. 1/3/2020 | Mon. 12/9/2019 | Tues. 12/17/2019 | Fri. 12/20/ 2019 |
| Mon. 1/6/2020 | Tues. 12/10/2019 | Wed. 12/18/2019 | Mon. 1/6/2020 |
| Tues. 1/7/2020 | Wed. 12/11/2019 | Thurs. 12/19/2019 | Tues. 1/7/2020 |
| Wed. 1/8/2020 | Thurs. 12/12/2019 | Fri. 12/20/2019 | Wed. 1/8/2019 |
Note: Please inform your regional BRS RA contact if you will be submitting a proposal with a due date just prior to, or during, or just after the curtailment period.
As a courtesy, here are additional curtailment details for some of our other campus partners: 
Information Technology (IT)
IT Client Services ITCS) will be closed on the campus holidays. On non-holiday dates, the ITCS Service Desk will operate with reduced staff between 9 AM to ­4 PM to assist campus units via phone, email or online. For holiday or after hours support, please contact 510-664-9000, option 1 (for IT), then press 7 to leave a voicemail, or send an email to: itcshelp@berkeley.edu. Those issues will be addressed on the next business day. 
Research Administration & Compliance (RAC) / Sponsored Project Office (SPO)
Here are the details on their curtailment and closure dates for 2019-2020. 
Supply Chain Management (SCM)
SCM's Winter Break details were featured in their October BearBuy Newsletter:
The BearBuy system will remain up and available to campus users during this period though turnaround time will be slower than published Service Levels due to limited staff availability. 

We strongly advise that departments submit purchase requests for services and high value orders (over $10,000) no later than 12/2 if the goods or services are needed between 12/20 and 1/3/20.  
Emergency acquisitions and automatic approvals (such as catalog orders under $5,000.00) will continue to be processed over the curtailment period of 12/24 - 1/1/20. If you have an emergency during this time, please email your

assigned buyer

and copy supplychain@berkeley.edu with the subject line "Emergency Acquisition" and a description of the business need. A buyer will contact you as soon as possible during regular business hours. Emergencies are defined as purchases necessary to protect the life-safety of the campus community or required to maintain research and business continuity.
Controller's Office
Check out the Controller's Office website for their respective deadlines.