(Updated on 12/10/21 to include BIO details under campus partners.)
Berkeley Regional Services (BRS) is planning to observe the upcoming annual winter curtailment period which will occur between Thursday, 12/23/21 and Friday, 12/31/21. These dates have been finalized with UCOP and were communicated to campus on 10/6/21. Below are details and BRS deadlines to help departments in their efforts to submit service requests by year end. The Academic Calendar also reflect these dates.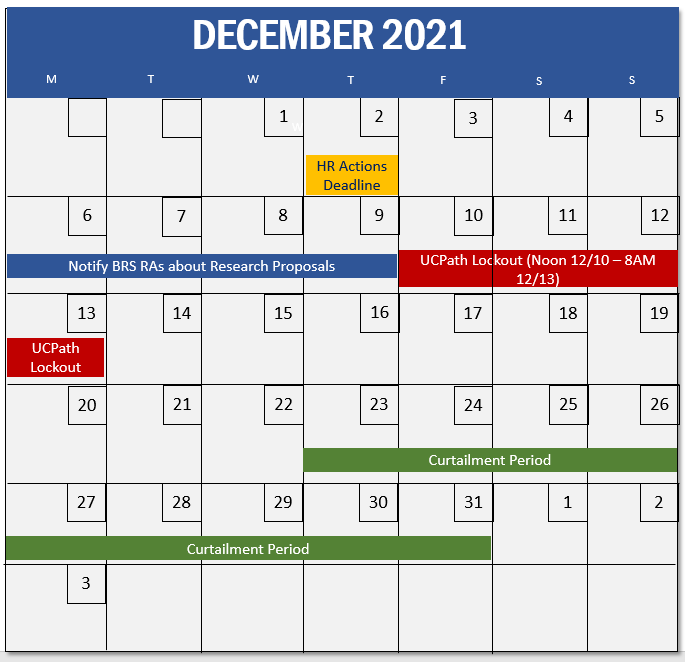 BRS function/group
Details

Human Resources/ Academic Personnel Support (HR/APS)

THE DEADLINE FOR HR-

BASED REQUESTS FOR 2021: 

DECEMBER 2, 2021

To ensure requests are processed by calendar year end, campus clients will again experience earlier-than-usual deadlines for HR-based transactions. This is impacted by the scheduled UCPath December lockout period (beginning Friday, 12/10 at 12pm (noon) through 8am on Monday, 12/13/21.) coupled with the typical curtailment/winter break period. The deadline for HR-based requests is: 12/2/2021.

These requests could include: 

Pay-related (excluding timesheets) transactions *

Appointments ending on 12/31/21 that need to be extended (this will ensure no lapse in access when the employee returns in January 2022)

Any promotions or separations (prior to 12/31/21)

* Note: see the usual BRS payroll deadlines as outlined on the Timekeeping/CalTime page of the BRS website. Also refer to the CalTime Timecard Approval Deadline calendars for bi-weekly paid employees and monthly paid employees. Complete CalTime deadlines can be found on the CalTime website.

BRS Central Onboarding

The BRS Central Onboarding Team and onboarding activities for new Berkeley staff will be suspended during the curtailment period. The HR First Contact Team will also have limited coverage during curtailment. For additional details and applicable deadlines, look at the

ASE/GSR and Lecturer Hires

webpage(s) and/or the

BRS Central Onboarding

webpage(s).

Purchasing and Reimbursements

As they are received, BRS regional P&R teams will strive to complete transactions as quickly as possible, given the current staffing levels. For an estimate on the timeframes of requests the teams are currently working on, contact your respective regional P&R team. As a reminder: The Direct Enter process introduced by the Controller's Office must be used for all non-complex travel reimbursement requests.

Research Administration

Research Administration & Compliance (RAC) / Sponsored Projects Office (SPO) has published their '21-'22 deadlines on their website and will process proposals due in December 2021 and January 2022 according to the VCR's four-day proposal submission policy. Below are the corresponding BRS deadlines.

Reminder: Those that will be submitting a proposal with a due date just prior to, or during, or just after the curtailment period should inform their regional BRS RA contact.
Sponsor's Proposal

Due Date (by 5PM)

Notify BRS RAs

(by 8AM)

Draft due to SPO

(by 8AM)

Final Proposal due to SPO

(by 8AM)

Fri. 12/17/21 – Mon. 1/3/22

Mon. 12/6/21

Tues. 12/14/21

Fri. 12/17/21

Tues. 1/4/22

Tues. 12/7/21

Wed. 12/15/21

Tues., 1/4/22

Wed. 1/5/22

Wed. 12/8/21

Thurs. 12/16/21

Wed., 1/5/22

Thurs., 1/6/22

Thurs. 12/9/21

Fri. 12/17/21

Thurs., 1/6/22
Other campus partners
As a courtesy, here are some additional curtailment details.
Controller's Office
Check out the Office of the Chief Financial Officer website for their winter curtailment details.
Information Technology (IT)
IT Client Services ITCS) will be closed on the campus holidays. On non-holiday dates, the ITCS Service Desk will operate with reduced staff between 9 AM to ­4 PM to assist campus units via phone, email or online. For holiday or after hours support, please contact 510-664-9000, option 1 (for IT), then press 7 to leave a voicemail, or send an email to: itcshelp@berkeley.edu. Those issues will be addressed on the next business day.
Supply Chain Management (SCM)
SCM has published details about their Thanksgiving and Winter Curtailment details in their November BearBUY Newsletter.
Berkeley International Office (BIO)
BIO staff will not be working on Wed., 12/22/21. Their office will be closed. The BRS Visa Team however, will have several team members working that day. 
Both BIO and the BRS Visa Team will resume working on Mon., 1/3/22.
Please ensure the Visa Team has a J-1 extension task in the HR Service Hub by Wed., 12/15/21 for any J-1 scholars with late Dec. '21/early Jan. '22 end dates that need to extend their DS-2019s due to reappointments. BIO will need to receive the expedited J-1 DS-2019 request by Tues., 12/21/21, at the latest, for these urgent extensions.
If there are any questions, reach out to your respective BRS regional HR Partner.