Berkeley Regional Services (BRS) does everything possible to ensure that the bi-weekly and monthly pay is processed accurately and on-time.We work closely and partner with the Central Payroll Office to surface and resolve any issues that may occur as quickly as possible.
Need to know important payroll deadlines?
BRS payroll deadlines are now featured in a Google Calendar format. Using the link below will allow you to add these new dates to your bCal so you can see, at a glance, due dates for various payroll-related entries for pay-related requests.   
Just click on the image below to add the BRS Client Payroll Calendar to your bCal: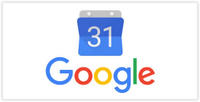 Or, if you just want a quick glance, refer to monthly view below: