Berkeley Regional Services (BRS) HR/APS teams continue to partner with the Summer Sessions, Study Abroad & Lifelong Learning (SSALL) team to coordinate summer instructor hiring.  
2020 Summer Session Hiring
The processes for 2020 are being finalized and campus departments received a communication from SSALL on 2/24/20. More information was shared in a follow-up communication from SSALL on 3/25/20, announcing that the new/improved and more intuitive eHire system is now live and departments can begin entering requests. It also included information about what's staying the same, and what's changing along with reminders and where to go for additional assistance.
Here are the important dates and deadlines for 2020: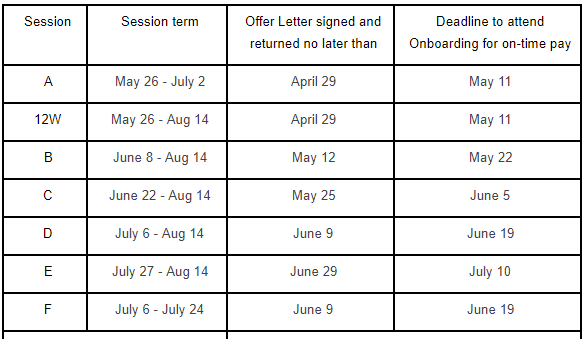 See this page on Berkeley's CalTime website for all timecard deadlines each pay period. 
Additional details for: 
READERS AND TUTORS
You must also submit a timesheet by the Bi-Weekly Payroll Deadlines in order to get paid.
Readers and Tutors will begin using Berkeley's CalTime system to submit their timesheets electronically beginning on May 31, 2020. This Reader/Tutor transition to CalTime page of the BRS website outlines additional details. 

For new Reader/Tutors who begin Summer Session instruction in Session A on May 26, you will need to prepare a manual (paper) timesheet for May 26-30 until CalTime is available and you begin using it to record your time beginning on May 31, 2020.
Your Supervisor will need to approve the manual timesheet and then follow the submission instructions outlined here. Be sure to submit your completed and approved manual timesheet by the posted deadline to ensure on-time pay.

Readers and Tutors that have additional jobs or appointments should review the details about the other appointment to understand what impacts there are to the frequency of how you are paid and how to report time. If you have questions about how to report time for multiple appointments, contact your supervisor or your BRS regional HR Service Team. 
Once you begin using CalTime, you (and your supervisor) will begin receiving recurring email reminders to complete (and approve) timesheets by the deadlines for each pay period.  
GSIs WITH AN ADDITIONAL PRIMARY STUDENT ASSISTANT APPOINTMENT
If you are a Summer Sessions GSI with an additional Student Assistant appointment, you may be subject to a non-exempt FLSA status, requiring you to report time on a biweekly basis. You can do this by submitting your hours on a manual bi-weekly timesheet and following these manual timesheet (submission) instructions.  
It is important to know that manual timesheets must be completed, signed, and approved, then submitted to BRS one (1) day prior to the Employee Approval date that is shown on the CalTime Bi-Weekly Payroll Deadlines schedule. This is to allow BRS time to enter the timesheet prior to the CalTime due date.
General questions about Summer Session Hiring can be referred to the SSALL team at: summer_hr@berkeley.edu. For assistance from BRS after the offer has been accepted, questions about reporting time/CalTime, submit an online (ServiceNow for HR/APS) ticket request under the "Ask a Question/Report a Problem" category and it will be routed to the applicable HR Partner/regional team.